Why our Polaris fairings, windshields
and accessories are so much appreciated?
Manufacturing materials:
Before stopping our choice on the best materials to be chosen
as the production of our fairings, windshields and accessories, we
made an exhaustive research. This research brought us to compare
fiberglas and various types of plastics. On expert's recommendations,
we chose to use a plastic especially developed for its superior advantages
on shock resistances.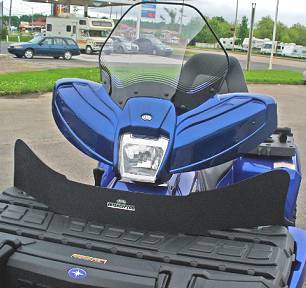 Our exclusive type of plastic
is solid, light and it possesses
an excellent capacity of shock absorption.
It offers an incomparable inside and outside finish! This material allows making a success on color layouts in all respects identical to the colors of the manufacturer's vehicles.
Our plastic offers us the freedom to obtain even more modern and more aerodynamic forms, thanks to its smooth surface. According to new environmental awareness, our plastic retrains easily.
Painting application and quality: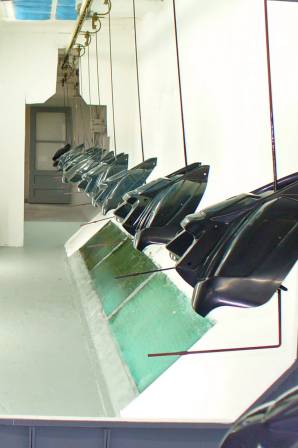 Cleaning chamber before painting
Year after year the ATV manufacturers propose more and more new attractive colors. ARB offers you the exactness of color of its fairings as well as a product of highly aesthetic finish.
We are proud to mention that ARB's Research and Development Department introduced a new and exclusive finish to its fairings. It is a flat black finish mast, a soft touch type finish that gives you a sensation of sweetness under your fingertips but is extremely resistant to scratches. ARB recommends this novelty for ATV type camouflage models. Here is another advantage where ARB distinguishes itself!
Our team includes paint application professionals who know the secrets and processes required by these applications to supply you with a finished product that we are very proud of.
The windshields:
Made of Polycarbonate, every model of windshield is designed for its respective model of fairing. Some fairing models offer two optional sizes of windshield, the regular windshield and the sport windshield which is tinted.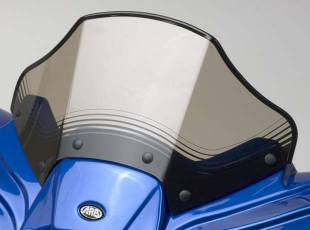 Sport tinted Polaris Sportsman windshield
The sport windshield is shorter and stiffer which gives it an incredible look! Our windshields have an angle and a height that offer a very good protection for all ATV users.
Both folds at the center of the windshield are produced under hot temperature. These folds give a very current style to the fairing and more rigidity. A modern designed screen-printing is applied on the lower part of every windshield giving it a proud look.
Up

Fairings and windshields mounting systems: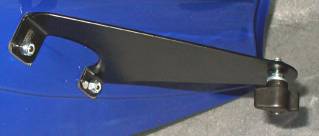 Polaris fairing mounting system, left section
Made from laser numeric cuts, the mounting systems are one of the most important constituents of the fairing. Nowadays, customers are entitled to require a successful, solid quick mounting system fastly removable that answers their expectations.
We know very well that installation time is important to QUAD users. ARB facilitates your life! Indeed at ARB, we collaborate to save you time and energy because a good part of the attach system, as well as the stickers are factory assembled to serve you better.
"EVOLUTION" quick release system for Polaris fairings and windshields:
Designed for Polaris Sportsman fairings and windshields, the concept is simple, successful and very ingenious. The fairing installation is very fast and its retreat is so quickly made.

The ingenuity of this system results from the fact that a part of the attach remains bolted to the handlebars and the other part stays bolted on the fairing.
The system prevents frustrations because you can reinstall it very quickly and without any adjustment. The fairing takes back its original place automatically and you just have to tighten the handles on each side.
The fairings:
Every fairing has its own particular characteristics that makes them different and incomparable as all accessories.
The Polaris Sportsman fairings: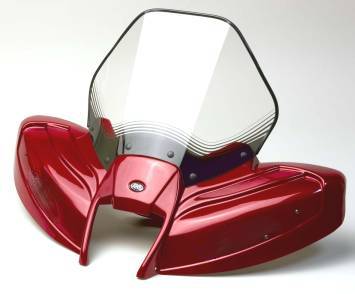 The constant popularity of our Polaris Sportsman fairings year after year, makes them the leader of their category. ARB Polaris Sportsman Fairings are unique and very sophisticated with their integrated back console and their quick attachment system.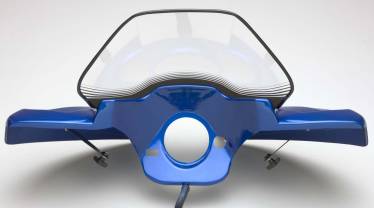 Rear view of Polaris Sportsman fairing
Our fairings offer an excellent protection and are the ideal partner for the Polaris Sportsman models. ARB Fairings is a logical choice for the true ATV users!
Up

The Can-Am Outlander fairings:
ARB Can-Am Outlander fairings are authentic by their young and stylish designs.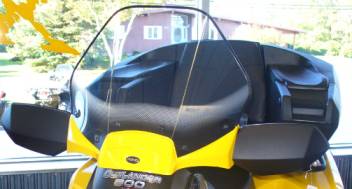 Can-Am Outlander XT 500 650 800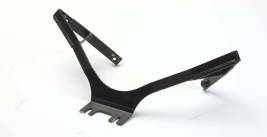 Can-Am Outlander XT 500 650 800 attach system
The fairing is stiff, marries well the forms of the ATV and adapts itself easily to the hand-guards. The height of the regular windshield gives to the ATV user a great protection which is such an important advantage.
These fairings are perfect fit with the vehicle. They require no cut or any surgery of the hand-guards during their installation.
The attach system is solid and comes out easily.
Our Can-Am Outlander fairings are recommended for proud people looking for a younger and refreshing look, wishing a true fairing and nothing less!
The Kawasaki Brute Force fairings:
Our Kawasaki Brute Force fairings are attractive at first sight; they offer a good protection, a superior and an unequalled comfort until now.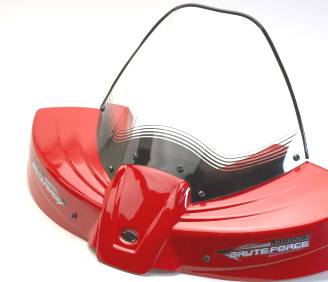 The fairing may be released rapidly at your convenience.
Their attach system is stiff and very reliable. Go for the beauty and the reliability of Kawasaki Brute Force fairings by ARB!
The Honda Rincon fairings: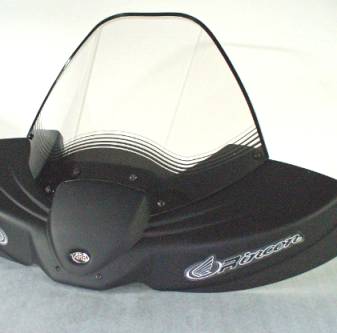 Black Soft Touch ideal for camouflage
ARB Fairings for Honda Rincon ATV have an exceptional look. Their attach system is simple but very stiff and effective. The forms of these fairings are dynamic and heighten the look of your ATV. This fairing is an excellent complement to the Rincon ATV which gives it a very dynamic and aesthetic look.
Up

Polaris Sportsman accessories
Polaris "INTERCEPTOR" air deflector
It is true that there are similar products; nevertheless, our clientele of Polaris Sportsman let us know of their needs and expectations for this kind of product, and we listened to them. Our air deflector Interceptor is the result asked by the Sportsman's owners.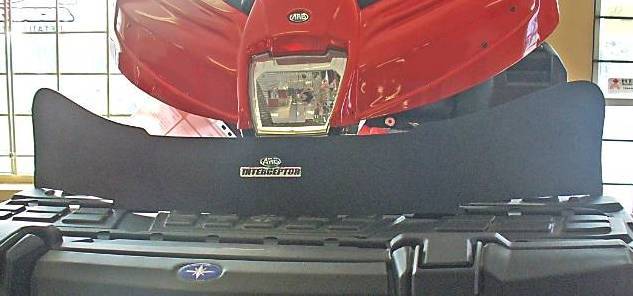 The dimension and the form of the air deflector Interceptor offer an excellent protection. Its lines are similar and designed to match perfectly the Sportsman's fairing. A true winning team!
Polaris Ranger RZR accessories
Polaris RZR racing stripes
Are you looking for a sport look for the RZR? Theses racing stripes are for you. They are made of high quality UV treated vinyl and are hot or cold weather resistant. They are easy to install and give to your Polaris Ranger RZR a sportier look.

ATV front boxes and accessories:
The "SPORT PACK" front box
This innovative box has been designed to adapt to most ATV models, offering numerous advantages. The shape of the cover offers great visibility and can be fully opened for easy access. The storage capacity is very interesting.

Dimensions:
lengh : 32.5 inches, 82.5 cm
height: 7 inches, 17.78 cm,

Center:
height: 4.75 inches, 12.06 cm
depth: 12 inches, 30.48 cm

These boxes permit no obstruction of the headlight.
The "Trail PACK" front box with windshield
This "ULTRA MODERN" and uniquely designed box is especially made for great outdoor expeditions. This box has a remarkable storage capacity. The windshield protects against dust, rain and cold wind. This box can also be used without windshield.

Dimensions:
lengh: 35 inches, 88.90 cm
height: 12 inches, 30.48cm
depth: 15 inches, 38.10 cm
Indeed, it is largely appreciated by big travelers who do not choose it especially for the windshield but for its big storage capacity. "Trail pack" ATV front box is an ideal accessory for long rides!
Up

ARB listens to you
You want to:
Suggest a new product?
Find an ARB Dealer?
Become an ARB Dealer?
Contact us; we will answer
your expectations with pleasure!
lbeaubien@arbwindshield.com
ARB listens to you
You want to:
Suggest a new product?
Find an ARB Dealer?
Become an ARB Dealer?
Contact us; we will answer
your expectations with pleasure!
lbeaubien@arbwindshield.com