ATV accessories, windshields & fairings
See all of our products at our online store!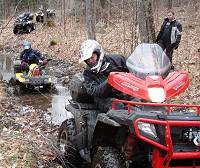 ARB is proud to welcome
you and wishes you an excellent visit.
ARB is above all a manufacturer of ATV
fairings. Besides our fairings, windshields and
accessories, we work on a new range of related products
for side-by-side models. The quality and the reliability of our
ATV fairings and the after-sales service as well as our new
innovative products make ARB the favorite brand of ATV users.

The constant technological evolution of our products results mainly from two sources: our research and development, as well as the excellent collaboration of ATV users. It is our listening of ATV owners such as you that makes our strength and drives the
development of ARB products.